08 février 2009
Le corps principal
I used 4 pieces of 1 X 2 lumber and some left over plywood I had. J'ai utilisé 4 morceaux de bois de 1 X 2 et de certains à gauche, j'ai eu plus de contre-plaqué. I built a ladder type frame by using 90 degree brackets and screwed everything in. I then used steel cover plates for electrical boxes for my wheel support braces. J'ai construit une échelle de type cadre à l'aide de crochets et de 90 degrés tout vissé po je puis couvrir de plaques d'acier utilisées pour les coffrets électriques pour ma roue de soutien bretelles. Everything was screwed and glued into place. Tout est vissé et collé en place.
The trailer arm La remorque bras

I recycled a cheap car bicycle rack that I wasn't using anymore, bent and cut the thing into shape. J'ai recyclé un bon vélo de voiture que je n'utilise pas plus courbés et de réduire la chose en forme. I got the part I needed and some sweet revenge for all the times that the thing made me scream and yell! J'ai eu besoin de la partie I et certaines sweet vengeance pour toutes les fois que la chose m'a fait hurler et crier! The finished arm was bolted tight to the frame and seems pretty solid so far. Le bras était fini serré boulonné au châssis et semble assez solide à ce jour.
This is the part that makes every homebuilder sweat! C'est la partie qui fait tout amateur de sueur! You need something solid and that will allow for all the free movement that bikes are known for. Vous avez besoin de quelque chose de solide et qui permettra à tous de la libre circulation des vélos qui sont connus pour. I think my solution is pretty simple and cheap as well. Je pense que ma solution est très simple et bon marché aussi. I used one of those electrical cover plates that I folded in half, made a hole and bolted it on to the wheel and frame of my bike. J'ai utilisé une de ces plaques électriques que j'ai plié en deux, a fait un trou et boulonné sur la roue et le cadre de mon vélo. I then bolted an eye bolt on that bracket. J'ai ensuite boulonné un oeil sur ce boulon de fixation. I think it's a bit too big, but it does the job well. Je pense que c'est un peu trop gros, mais il fait le travail également. I put a U-clamp that can be locked in place with a screw that I put in a hole that was drilled in the trailer arm. J'ai mis un U-clamp qui peut être verrouillé en place avec une vis que j'ai mis dans un trou qui a été foré dans la remorque bras. There is a lot of play and you can feel some jerking motion when you pull the trailer. Il ya beaucoup de jeu et vous pouvez ressentir certains mouvements saccadés lorsque vous tirez sur la remorque. But hey! Mais hey! That itch cost less then $5 to make, it's strong and allows all the free movement that you need. Cette démangeaison des coûts de moins de 5 $ à fabriquer, il est solide et permet à tous la liberté de mouvement dont vous avez besoin. You will never flip the trailer while doing a crazy slalom maneuver. Vous ne retournez le trailer tout en faisant une folle slalom manœuvre. I've put some electrical tape over the eye bolt to kill the clanking noise that is inevitable with this set-up. J'ai mis quelques ruban électrique sur l'oeil de boulons pour tuer les clanking bruit qui est inévitable avec ce set-up.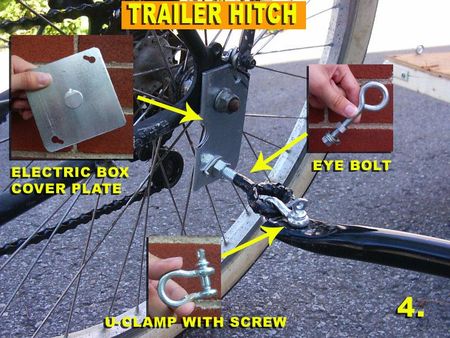 Wheels and hardware Roues et matériel
The wheels are a pair of 16 inchers that were lying around my backyard. Les roues sont une paire de 16 pouces qui se trouvaient autour de mon jardin. I need to get some matching tires now. J'ai besoin d'obtenir des objets correspondants pneus dès maintenant. I always build my projects with the strict minimum of new parts. J'ai toujours mes projets de construction avec le strict minimum de pièces neuves. That way if the project fails, I'm not out by too much money. De cette façon, si le projet échoue, je ne suis pas par trop d'argent. I put in some eye screws to hold the cargo with bungee cords. Je vis les yeux de certains d'organiser la cargaison avec sandows. I might make sides to the thing, but I have to paint it first since it will live outdoors. Je pourrais faire des parties de la chose, mais je dois d'abord à la peinture, car il va vivre en plein air.
In closing En conclusion
I built this cargo trailer pretty big because I wanted to be able to carry big stuff. J'ai construit cette très grosse remorque à marchandises, parce que je voulais être en mesure de gros. I don't do that everyday, but I now have something I can use instead of the family, gas guzzling, money pit mini van. Je ne fais pas ça tous les jours, mais j'ai maintenant quelque chose que je peux utiliser à la place de la famille, des gourmands de gaz, de l'argent à ciel mini van. By the way, I don't know how much the trailer weights, but it's lighter than one of those minvan seats. En passant, je ne sais pas combien de poids de la remorque, mais il est plus léger que l'un de ces minvan sièges. I will be building a smaller version with two plastic containers bolted to the frame for grocery runs. Je vais construire une version plus petite de deux contenants de plastique boulonné au châssis d'alimentation fonctionne. If you decide to build one, do it the size you are most comfortable with. Si vous décidez de construire un, la taille, il ne vous êtes plus à l'aise. A rule of thumb for the width is not larger than your shoulders, this way you can safely use the trailer on bike paths. Une règle de base pour la largeur, n'est pas plus grand que vos épaules, de cette façon, vous pouvez utiliser la remorque sur les pistes cyclables. I will update this post everytime I make changes to the big el cheapo cargo trailer and I'll make a new one for the smaller trailer. Je vais mettre à jour ce message à chaque fois que je apporter des modifications à la grande el Cheapo remorque à marchandises, et je vais en faire une nouvelle remorque pour les petits.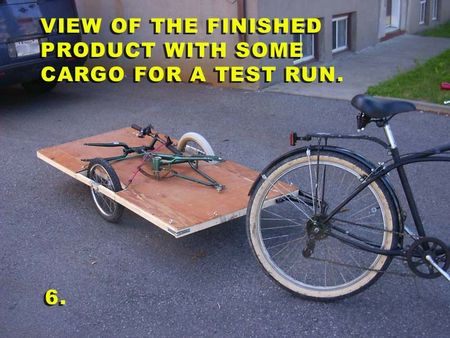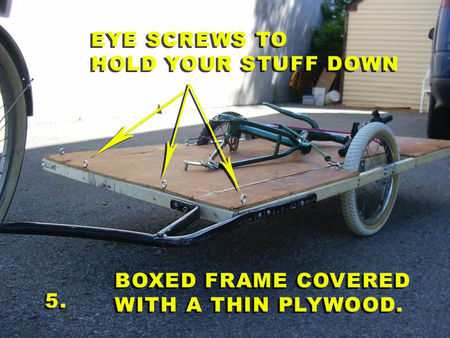 Safety note Sécurité note
This trailer is designed for cargo only. Ce trailer est conçu uniquement pour le fret. I do not recommend building one for carrying your kids. Je ne recommande pas un bâtiment pour le transport de vos enfants. A good used one would be a much better solution. Une bonne utilisation serait une bien meilleure solution. When the kids grow out of it, you can still use it to carry groceries, treasures found at garage sales or a complete kit for a picnic with your significant other. Lorsque les enfants grandissent hors de lui, vous pouvez toujours l'utiliser pour transporter l'épicerie, les trésors trouvés à la vente de garage ou d'un kit complet pour un pique-nique avec votre autre significatif. However, if you plan to do this anyway, make sure that the kids cannot get their hands in the wheel spokes. Toutefois, si vous prévoyez de le faire de toute façon, assurez-vous que les enfants ne peuvent pas obtenir leurs mains dans les rayons de la roue. Also, test the living daylights out of your contraption before by loading it with twice the weight, ride in the worst possible road conditions and do the craziest stunts. Aussi, l'essai The Living Daylights de votre dispositif avant de le charger avec deux fois le poids, le tour dans les pires conditions routières et de faire de folles cascades. If the thing is still in one piece after that and hasn't tipped over, then you might want to trust the health of your kids in your contraption. Si la chose est encore en un seul morceau après et n'a pas basculé, alors vous pouvez faire confiance à la santé de vos enfants dans votre dispositif. I wouldn't. Je ne le serait pas.
Commentaires sur El cheapo